Universal Design In Your Bathroom Line You Never Imagined
"While I am discussing bathroom design options with my clients, I always bring up safety and suggest the installation of Universal Design features. Most look at me in disbelief as the old adage of grab bars for the elderly come to their mind. Universal Design is much more than this – most homeowners are pleasantly surprised once we begin exploring popular Universal Design features for their bathroom remodel." – Lead Designer, Kathi Fleck
Universal Design incorporates safety, design, and comfort for all using the bathroom. This way of making life easier, especially as we age, becomes an integral part of a bathroom design. Homeowners come to us wanting to make changes to their home. The majority of those inquiring about remodeling their home have either a bathroom or a kitchen remodel in mind (and sometimes both). How to begin a bathroom or kitchen remodel depends on what look and functionality you want.
Most homeowners have a concept in mind after browsing popular social media sites like Houzz and Pinterest and want those features to be a part of their bathroom remodel. Universal Design gets a bad rep for having a "cold" and "industrial look". So naturally, we get some resistance from homeowners when we bring it up during our initial consultations. The fact is, most popular bathroom design features you see on the web are Universal Design elements. Here are some of the most popular Universal Design trends for the bathroom:
Pendant & Task Lighting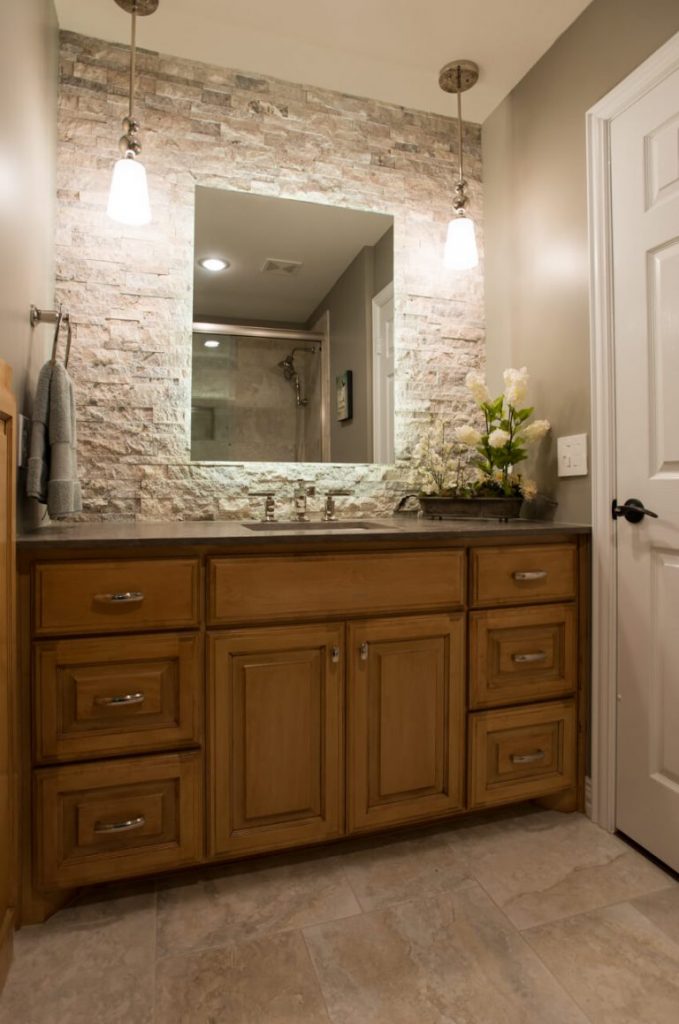 Bathrooms need to look and feel different from morning to night. Task lighting allows you to work on a specific function with adequate light in the day and night. An example of task lighting in a bathroom would be under-cabinet lighting. Under-cabinet lighting makes it easy to navigate a dark room in the middle of the night. Most homeowners find it more aesthetically pleasing than a plug-in night light. Additionally, sconces and pendents installed near face height provide the most flattering source of light with the least amount of shadows. We also get a lot of requests for lighted vanity mirrors in the bathroom. This popular trend is actually an element of Universal Design and provides adequate lighting for make-up application and shaving.
Some want ceiling fans in the bathroom due to poor circulation and humidity from showering. All of the items are Universal Design elements and can be added to a bathroom remodel with style and flair.
Tubs, Shower Seats and Benches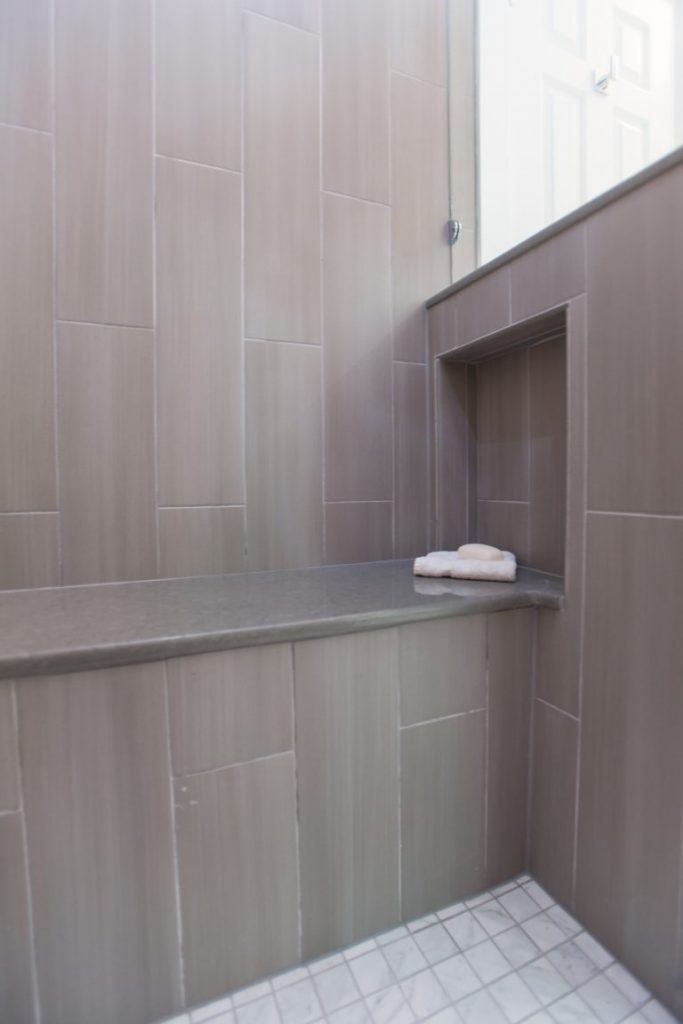 When designing and remodeling a bathroom, we discuss tub possibilities as well as showers. When it comes to the tub, two options are a stand-alone tub vs. a drop-in tub sitting on a tub deck. It's important to consider the lack of seating space for getting into and out of a tub. We suggest imagining how the next 10+ years will be.
Share any health and safety issues you may have before they become a potential problem. When shared during the consultation process, we're able to concept a bathroom design with shower seats, benches, and tub decks that are both functional and flow well with the rest of the room.
Additional Shower Features
The shower provides so many opportunities for Universal Design – from the layout to shampoo inserts that make applying your favorite products easier. If you'd like to pass on a tub and enlarge your shower consider a walk-in shower with low threshold instead. Installing hand-held shower heads and rods is a popular feature these days. It allows you to control the water pressure and direction – they give off a spa-like feel as well.
Want to see more on Universal Design in the bathroom?
Click here.